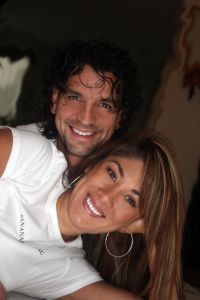 AWESOME ARTS LOVERS TOUR – What a feast for the eyes and the ears! The tour of local galleries and artists' studios was wonderful and it was great to see how some of the great images are created. It was also interesting to meet the artist personally get a sense of how their personality was being expressed in their work. We spent the second half of the weekend attending the Port Hope Jazz Festival and we loved every minute... Your BnB is exceptional and we will not hesitate to recommend it to anyone. The lake front is beautiful and the hospitality amazing! Good Food, Good Eye Candy and Good Music what else could one ask for. We will definitely be back for the Folk Festival in September and the Chamber music festival in the County. Thanks again! Bill and Denise – Orangeville Ontario
THE NATURE TREK WEEKEND WAS GREAT! We had such a good time on your nature trek weekend we saw over 45 species of birds at Presquille not to mention the fox and her kits and the coyotes howling at the stars. We enjoyed the nature centre in the park and spent long ours soaking up all the nature tails. We learned a lot and took some great photos along the way. We really appreciated your knowledge about the local eco systems and we were able to experience some pretty cool stuff during the week end. We spend some of the time in your canoe and paddled out to the island but we also enjoyed taking the bikes along the Waterfront Trail. Thank you for the fabulous food and your great hospitality. It made our weekend very special Tim and Diane - Ottawa.
THE WINE & FOOD TOUR WAS YUMMY– We totally enjoyed your Prince Edward County Food and Wine Tour! After a great breakfast at Serenity, we spent the day being chauffeured around the County sampling local foods, cheese and some amazing wines. I was not surprised to find that many of these wines have already received major awards in competition. The quality of wines we tasted on the tour was excellent and the variety quite impressive. The restaurants we visited were also quite remarkable. The whole county is clearly a treat for the taste buds. Thank you for taking us on the tour and doing all the driving to make it possible! Your experience and professionalism shows in everything you are doing at Serenity! Bravo! The whole experience was both and educational and sensual high point of our season. Thanks again! - Maurice and Cheryl - Montreal
The highlight of our FALL COLOURS TOUR was our stay with you. We had a truly wonderful time there this fall even in the midst of the stormy weather,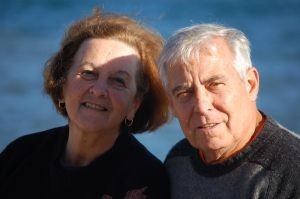 we went for a long walk along the beach to the light house with the wind in our face and the surf at our feet and felt invigorated by the whole landscape. When we got back to the B and B we curled up by the fireplace with some great books from the Serentiy library and enjoyed a super video from your eco film library that evening. The weather cleared the next day and at dawn we enjoyed a work out on the pool deck before sitting down to the great breakfast Ruth had ready for us. That morning we biked to the nature trails in Presqu'ile Provincial Park and in the afternoon we went on your tour of local vinyards, restaurants and the cheese factory in Prince Edward County. The next day we took in all the activities at the Brighton Apple Fest and had an absolutely great time! Our only regret was that our four days at Serenity was not a week! - Harv and Mary from Toronto Ontario.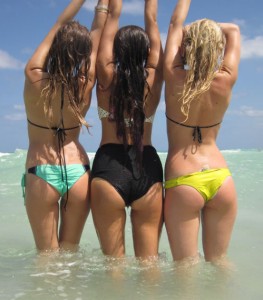 GREAT BEACH! What a great location you have. Everything from a rocky shoreline with nifty beachcombing possibilities ( we found two fossils ) to a super wide sand beach for fun in the sun. I know you told us about all the neat stuff we could do in the area but it became pretty clear we came for the sun and the guys and the beach sure has some cute guys to chat up!!! We took some of them on the nature trails in Presqu'ile Park and they invited us to a campfire. We had a great time playing in the waves and running on the beach. It was a great weekend and we enjoyed every bit of it. Great Food, Great Wine, Great Spa, Great Company and a Great Time! Thank You from - The Beach Bunnies from Queens University Kingston Ontario.
WOW! We really enjoyed our first stay at Serenity and visiting the little town of Brighton. We certainly packed a lot into a ONE WEEK SPRING HOLIDAY.
We don't usually take time off in the spring but we are glad we did. We saw orchards, vineyards, and a cheese factory. We went bird watching at the Water Fowl Festival in the park. Our old friends from Brighton are history buffs but they had never visited the Proctor House Museum and the Memory Junction Railway Museum or the Aviation Museum in Trenton or even visited the local antiques shops in the area, so we had a great day taking them down memory lane. We tried all the restaurants your recommended one by one and were not disappointed at all! I loved spending time at three of your local art galleries and listened to some pretty cool local music in the park. We were both pleasantly surprised that you had such good bikes for rent and we really enjoyed peddling a section of the Waterfront Trail and had a great picnic on the lake shore park on Harbor Street. Most of all we want to thank you for the great conversations and your truly fabulous food. I have to say we arrived home completely de-stressed and relaxed. The hardest part was going back to work! Thanks for the great time! - Ron and Joanne - North Bay Ontario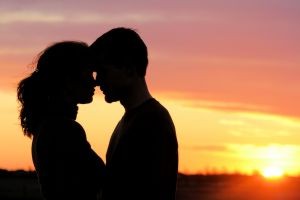 HONEYMOON HAVEN - You guys made it for us! Romantic, Beautiful, Sensual, Fun, all with beautiful vistas in every direction! Ohh and your photographs WOW! so awesome! We had a very romantic honeymoon with great food and the wonderful water in every direction. There with tons to do and we took advantage of it all week long. What a great place you have and we really appreciated your hospitality! You managed to spoil us so much that it was hard to head home. Thanks Again - Chris and Christine - Welland Ontario

OUR GOLF GETAWAY WEEKEND WAS GREAT FUN - I had been looking forward to playing Timber Ridge Golf Course
ever since it was voted best bang for your buck by Ontario Golf Magazine 2010!! We try to take another couple out for a weekend of golf at least four times a summer and when my buddy pointed out that it was part of your Golf Getaway Package, I was pretty keen to come to try out Timber Ridge and some of the other courses in your area. So we planned our golfing weekend at Serenity. I knew with a name like Serenity that you might have a pretty comfortable spot. But nothing prepared me for the fact that your place would be so nice that is would be hard to get my wife to head out to the links each day and leave the comfort and beauty of your lakeside paradise behind!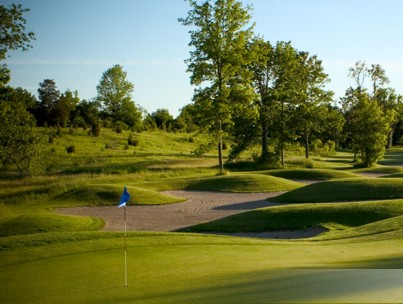 However once we got out on the fairways we new we were all in for another kind of treat. Timber Ridge was all it was cracked up to be. Its a very well designed and maintained course that keeps you thinking and working your bag of tricks on every hole. It was a pleasure to look at and to play. I think we were pretty pleased with it after only a few minutes on the course. Not to take anything away from the the rest of the weekend, it was also challenging and interesting but all of us particularly enjoyed Timber Ridge and the fantastic hospitality that you offered us at Serenity. I want to thank you for the great breakfast you put on and for making the sauna and a swim available to us after our day on the links and for the Aloe Vera you put on our sun burns the first day out. It was an absolutely great weekend and we all thank you! But now my wife wants to come to your place for a week end with no golf!!!!. Gary Patterson - London Ontario
That was a COOL PHOTO TOUR – We loved spending the weekend being coached by well known photographers. The photographic workshop was great to get everyone up to speed on basic technology and techniques. But I also appreciated that we spent so much time in the field applying what we had learned, one image at a time. I also liked the way your instructor let us explore a wide range of subjects and different lighting situations. He did a good job of helping everyone improve their knowledge and skills no matter what level they were at when they arrived. The evening films and critiques of the results from each day were also very interesting and helpful. I found the whole experience not only educational but inspiring. I am now taking a lot more photos and they are much better than before spent the week end with you. Thank you! - Ian Simpson - Windsor Ontario

HEALTHY FOOD WEEK - We travel quite a bit in search of great cuisine and culture. I am a freelance food writer. So I was intrigued by the Serenity Healthy Food Week. The ideas of spending a week exploring the healing power of food, the health benefits of food and the tasty possibilities of healthy food and even the environmental impact of various foods was quite intriguing to say the least. The experience was not disappointing. On the contrary the food at Serenity foodie fest is nothing short of fabulous. During the week of workshops films and field trips we ate very well with a great variety of organic raw fruits, vegetables, nuts, sprouts and herbs crafted in combinations that tantalized the taste buts and energized to body. It was inspiring to say the least! For the foodies in the crowd, this event should be one to remember! Thanks again Serenity for the eye opening and mouth watering discoveries that you shared with us! We will be back! - Ben and Ginna – Oakland California.

OUR TOTAL HEALTH RETREAT WAS SIMPLY FANTASTIC! Thank You Serenity! We were blown away by the wide array of therapeutic treatments you offer there and the depth of your knowledge and experience around natural health issues you have.
What a team you have there! The organic whole food meals, the sessions, the films, the facilities, the lake and the beach…wow… It was all superb! We totally enjoyed all your goodies; the Infrared Sauna; the Hot Tub; the Swimming Pool; the Micro Gym and I particularly enjoyed the decompression table. I felt two inches taller and ten pounds lighter on my feet after a 20 minute inversion. So Cool! It took me a while to get used to getting up at dawn but we sure made the best of each day! We spent some awesome time in your Meditation Dome and enjoyed the Yoga sessions the deck. We went for long walks along the beach and loved the magic of being by the water every single day. But most of all I enjoyed the conversations and soothing and relaxing treatments that were lovingly offered us during our retreat. We experienced several enlightening and inspiring coaching sessions with Garnet that gave us all new perspectives on creating the kind of lives we really want. Over the course of the week we were there we also indulged in Aromatherapy, Reiki, Reflexology, Craniosacral, Integrated Therapies and some truly amazing Roll Playing and Massage Sessions. All in all, we learned a ton of great stuff about regaining and maintaining a healthy mind, body and spirit and on top of that we had a absolutely fantastic time! Each one of us walked out of there with a new lease on life and like we were walking on a cloud. Thank You For All Of It! . - Tracy, Jennifer, Mary, and Terissa - Toronto Ontario.

OUR OUTDOOR ADVENTURE - You guys have a fantistic location for learning outdoor skills. We totally enjoyed your canoe training program and your seminar on wilderness survival.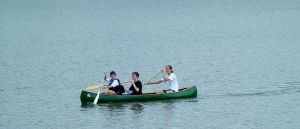 I appreciate a lot more about enjoying wild country and being safe while we do. We now have the confidence to take our kids on an extended canoe trip to Algonquin and that is largley because of your patient and detailed lessons about the best techniques and technology for canoe tripping. All our skills improved and I soon learned how much easier it is to do things the right way rather than just winging it. When you demonstrated your canoe ballet I was so impressed with both your talent and the incredible joy and pleasure you can get by traveling by canoe. Such a beautiful invention! Thank you for the great weekend. Ohh and for the photos you took! It was a great time with great food and the wonderful views in every direction. We really appreciated your hospitality and your expert outdoor guidance. Thanks Again - Christian and Marie - Welland Ontario

Ok we spend most of our summer outdoors, exploring new FISHING SPOTS and I have to tell you that most of the time we tend to rough it a bit to get to good fishing.
Well to put it bluntly, staying at Serenity was way to comfortable, way to relaxing, way to luxurious and totally not in keeping with my image as a tough and self reliant outdoorsman! So I have not told any of my friends about how enjoyable my week there was. But boy my hat is off to you! The food was great, the view was awesome and Ruth the way you cooked up our fish on the barbie was totally tasty. I would never admit this to my friends but I gotta say that coming home from a long day on the water to a sauna and a whirlpool tub just blew me away. I must be getting old but I really enjoyed just chilling there when we were not out fishing. So thanks for all the hospitality and for your tips on where to find the best spots. We certainly had a great time there, but just don't expect us to tell our friends about it! I have an image to maintain and I am not sure I could live it down! - Tom and Hank from the Eastern Townships (names changed to protect an ego)
WATERFRONT TRAIL - Your hosts at Serenity are also bike riders and they know how to create a great stop along the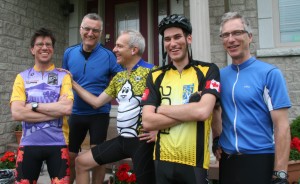 WaterFront Trail. After a long day of cycling Serenity offers a cool dip in the Lake Ontario or a hot shower on arrival and great snacks, being able to wash your clothes, watch a movies or loosen up your tired muslcles in the infrared sauna. Having a huge breakfast to fuel up before that 100k ride certainly helps and topping up your water with Serenity's special RO water supply is also a plus. Serenity has a workshop for repairs and a special shelter for bikes. Serenity also provides great local info for a fascinating ride through Prince Edward County with lots of cool stops at galleries, antique shops, wineries and a cheese factory. You can certainly leave Serenity refreshed and re-energied for the next leg of your journey! RIDE ON - Entrepid Cyclists refreshed after a 160 km leg from Toronto to Brighton - Will Wallace, Nico Troome, Niko Block, Mathew Zaleski, Wendel Block.
BEAUTIFUL VIEW - from our balcony, friendly service, fantastic eggs, simply a beautiful spot. - Kerry & Paul Davenport Pickering Ontario.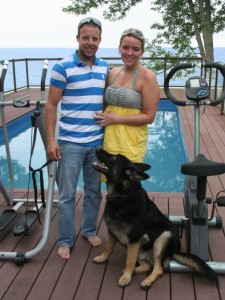 EVERYTHING WAS PERFECT- We really enjoyed our stay at Serenity. We would come back anytime. We really appreciate your suggestions of places and activities to do. It was very helpful. Your hospitality knows no limit. You even accepted our dog in your home!!! The site is exceptional and the house is beautiful. Everything was really clean and nice. We ate very well. You seem to love what you are doing and that's what makes your place so nice. Everything was perfect! We will certainly talk of your place to all our friends and family. Its for sure one of the best places we have ever gone. Carole-Ane & Carl-Anthony - Laval, Quebec, Canada
PEACE AND QUIET - Thank you so much for your hospitality. This was a wonderful weekend away from the city. I had time to reflect on my next step in life. Love the peace and quiet, thanks again. - Natalie Yang Ottawa Ontario
GREATEST HOSTS - You are the friendliest hosts! What a fantastic view and such a great location to end up after an Ontario roundtrip. The room had a beautiful balcony over the water where we read all about the area while we drank in the view. Very relaxing, we loved the bathroom with the jacuzzi bath and the fact that you had a sauna and pool. Garnet thank you for all the great ideas and your stories of your world travels and Ruth thank you for taking so much time to chat, we loved it. - Margit & Lutz Palmie - Bernau Germany
HOSTS WITH THE MOST - It's small town charm in a big way. Life sometimes gets too busy & getting away to Brighton is a treat. We stayed at the Serenity & when we left we felt relaxed & elated. Our Hostess was most gracious. A gorgeous home to share & have all the privacy. We have been to a lot of B&B's. This one is at the top. Thank you for your outstanding Hospitality - Pierre & Michelle Millette – Keswick, OntarioYou
DELICIOUS BREAKFAST - Brighton is a charming town and Serenity Bed and Breakfast is the perfect place to stay while enjoying everything the area has to offer. We spent two very comfortable nights at Serenity and enjoyed such delicous breakfasts that we felt no need for lunch. The atmosphere is warm, friendly and relaxed. Thanks for your hospitality! - Rod and Cathy – Thornbury On
50 INCH HD FLAT SCREEN FILM FEST- If you're looking for the perfect place to stay in Brighton, Ontario, we highly recommend "Serenity Bed and Breakfast". The atmosphere is warm and inviting, the accommodations are spacious and comfortable (and Doug especially liked the 50" HD flat-panel in the living room). We enjoyed several Eco and Natural Health documentaries in the evenings. Our delicious breakfast was made-to-order from a variety of choices. And, we can't say enough about our hosts, they made us feel at home from the moment we arrived. We look forward to staying there again soon. - Doug and Pat Chicogo Il, USA
DELICIOUS BREAKFAST - Serenity Bed and Breakfast and Wellness Centre is a wonderful place to unwind and renew oneself. They have workshops to learn new things and a natural health centre where I got a wonderful massage. With the in house spa and warm hospitality it is not long before we were feeling nurtured and cared for in this oasis from day to day life. The food is simply fantastic. I ended up asking to eat all my meal at Serenity as their host happens to be a very talented chef. Serenity's understanding of our relationship with food is truly exceptional and a real treat after a long day of having fun and learning new things. Bravo Serenity ... Well done! I WILL BE BACK!!! - Paul Roth – Toronto Ontario
BEAUTIFUL SETTING - What a beautiful setting! Wonderful host and amazing breakfast. Will go back for sure. - Jane Gordon – Bobcaygeon Ontario